We believe that the "bump factor" or the "human collisions" that happen in Kendall fuel innovation.
We bring people together around programming and events that are thought-provoking, impactful, and fun—so you keep coming back.
In this section:
---
Community Impact Working Group
The purpose of the Community Impact Working Group is to create an agenda for enhancing equity, sustainability and transparency in Cambridge. This initiative is intended to help Kendall organizations break out of their silos, discovering the collective impact of philanthropy and community engagement. The group does this by engaging in mutually supportive learning, sharing, resource pooling and collaborative work with each other, creating a clear and strong flow of communication and learning between us and the Cambridge community in order to ensure our efforts are aligned and responsive to community needs, and amplifying our values, narratives, and work to community stakeholders. The CIWG is currently focusing on both the Pathways to Kendall – Inclusive Workforce Development and Kendall GREEN. Email us for more information on how to get involved.
---
Ten-week professional development program that focuses on providing foundational learning in anti-racism and equity, applying frameworks to organizational systems and culture, and guiding teams through equity-centered organizational action planning. Offered twice per year. IDI alumni convene regularly to move this essential work forward. Get more information about this course here.
---
Kendall GREEN
Kendall GREEN is a KSA initiative that aims to 1) illustrate Kendall Sq.'s leadership; 2) share best practices, and 3) inspire greater action to address climate change. This initiative will produce a white paper and other materials highlighting the big and small ways KSA members are doing their part to address climate change. To share you story email hello@kendallsquare.org.
---
Pathways to Kendall
People power Kendall Square's innovative ecosystem, the people here engage in the science and technology that advances human health and keeps us all connected. Future-proofing the innovation economy in Kendall and the region requires a workforce that is inspired, inclusive, trained, and purpose-driven. Sharing pathways to Kendall and our regional economy is essential to our shared success.
Whether you are in grade school, high school, college, grad school, or an adult learner, you can learn, grow, and be a part of the work happening here. We look forward to connecting with you on your journey.
---
Transportation Working Group
Kendall Square is a model for transit-oriented development where major employers and property owners actively support sustainable and practical transportation options. This working group studies transportation, and gleans insight from our members, the MBTA experts, and more. If you are interested in participating in the working group and are a KSA member, please email hello@kendallsquare.org.
---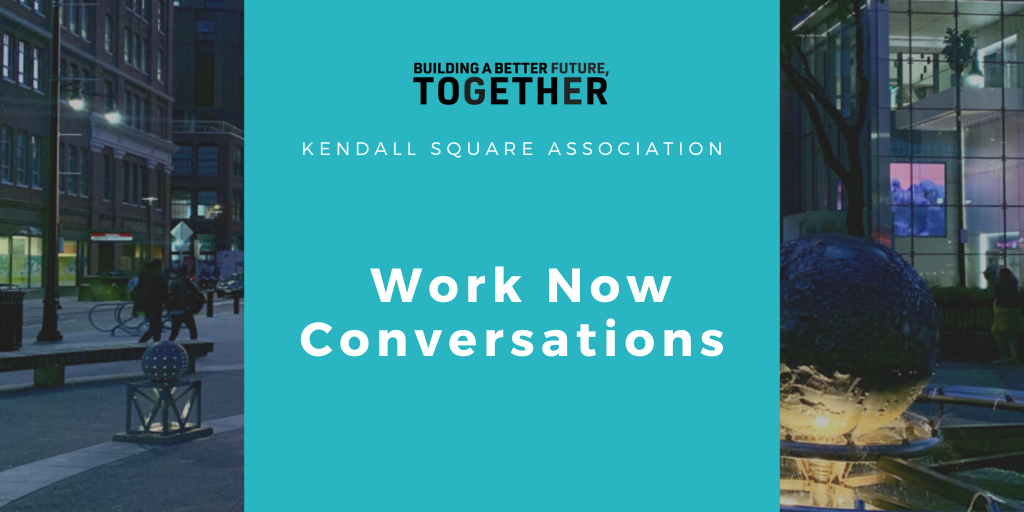 Topical meetings connect decision-makers and leaders from companies across Kendall to focus on how we work today, and how to positively shape the workplace of the future. Together, we learn from experts and one another, sharing ideas and practices that work, and establishing collaborative solutions and benchmarks. Sign up today.
---